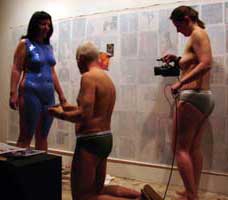 Click thumbnails to view images


Johannes Zits
Body Prints
May 19, 2006

This performance by Johannes Zits references Yves Klein's famous performance "Anthropometries of the Blue Period". In Zit's version the women are replaced by men and the paint with glue where he creates collages out of images the models chose. This work continues Zit's interest in the figure and abstraction, which has been the focus of his work for many years.
This performance will be the first new work by Zits shown in Vancouver since he moved back to Toronto in the late 1990's. Zit's work is well known across Canada and within Vancouver.


Johannes Zits received his BFA from the York University (1984). He works in a variety of disciplines including painting, printmaking, digital manipulation, and video. He has shown extensively both nationally and internationally. He has also attended international residencies in Banff, Taipei, Paris, Rotterdam and Berlin.
Some recent exhibitions include Fotogalerie (2000) Vienna; Parkhaus (2002) Berlin; Manifestation International D'art De Quebec (2003) Quebec City; Museum of Contemporary Canadian Art, (2003) Toronto; Musterhaus (2004) Berlin; Biz Art (2006) Shanghai and is represented in Toronto by Spin Gallery and in Montreal by Pierre-Francois Ouellette Art Contemporain.
The video Style On Skin premiered at the Tranztech Video Festival, (2003) Toronto The video Guys Night In has be screened recently for The End of the World, (2003) Staircase Theatre, Hamilton; Video Art Plastique, (2002) Herouville, Sainte-Claire, France; Dutch Treats, 2002 Roze Filmdagen, Amsterdam.


Clicking this link will launch video of Johannes Zits "Body Prints" performance. A high-speed connection is required.