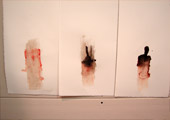 Click thumbnails to view images


Jason Fitzpatrick
bite and burn
October 5 to October 14 2006

Bite & burn has three separate components actualized over a period of time. Each section occurs in one of three different cities and regions: the Great Lakes region, the Pacific Coast, and Atlantic Canada. One of these actions has already taken place in Toronto at Open Studio and one in Vancouver at grunt. The third location is yet to be announced.
The primary formal elements of bite & burn include printmaking, music, tattooing and architecture. In the Vancouver section at grunt, a printmaker, tattooist and the artist were enclosed in a fabricated room built within the gallery space. The viewer was only able to witness the activity through a vertical gap two feet high by three inches wide left in the wall. For three hours, in the enclosed room, the tattooist produced one third of a solid black line running down the length of the artist's spine. Vinyl records chosen from a collection of vintage 1980s metal, punk and hardcore bands were played for the duration of the tattooing. The printmaker made prints from the tattoo every twenty minutes, creating sequential, chronological monoprints. The temporary room, the records, chairs, video footage of the action and a selection of the prints that were hung on the gallery walls remained as the post-performance exhibition.
Artist statement
"Sculpture becoming decentralized, not limited to exist within a static form but to be the transformation of form (sculpture-body). The processes/lineage of the projects are exposed. The projects, therefore, are an embodiment of several interrelated elements that are combined to create a time-based/multi facetted action that is not limited to a particular material or method of production. In my projects the body is used as a point of departure: my height, weight, strength, mental capacity, sexuality, gender and endurance are utilized as material to establish the initial context in which I work."
Over the years, Jason Fitzpatrick has been active in artist-run culture. Currently, he is President of the Board of Directors for Access Artist Run Centre and serves on the Board of Directors for the LIVE Biennial of Performance Art in Vancouver. His various projects employ elements of sculpture, drawing, intervention, performance, video, site-specific production and collaboration. Fitzpatrick received a BFA (Sculpture Studio) from the Nova Scotia College of Art and Design in Halifax (1993) and a Master of Fine Arts from the University of Windsor (2004).


Clicking this link will launch video of Jason Fitzpatrick's performance "bite and burn". A high-speed connection is required.